KEY FACTS
CEFR level:
B2
Scale score:
160–179
Test format: 
Computer or paper-based
No. of papers:
4
Exam length:
About 3.5 hours
Are you ready for B2 First (FCE)?
B2 First (FCE) is most popular Cambridge exam,  recognised all around the world by thousands of employers, as well as colleges and universities, as proof that you can use everyday written and spoken English for work or study purposes.
It is at Level B2 of the Common European Framework of Reference for Languages (CEFR).
It can be taken in both paper-based and computer based formats.
B2 First (FCE) shows that you can:
communicate effectively face-to-face, expressing opinions and presenting arguments
follow the news
write clear, detailed English, expressing opinions and explaining the advantages and disadvantages of different points of view
write letters, reports, stories and lots of other types of text.
Timetable/Format:
B2 First (FCE)  is made up of four papers developed to test your English skills (Reading, Use of English, Listening, Writing and Speaking), therefore your FCE exam preparation will have to be comprehensive and cover all areas
You can see exactly what is in each paper below.
Reading and Use of English
(1 hour 15 minutes)
7 parts
52 questions
The Reading and Use of English paper tests your reading skills and your knowledge and use of vocabulary and grammar.  You also need to be able to read a text quickly to get the general idea.
Writing
(1 hour 20 minutes)
2 parts
Requires you to be able to produce two different pieces of writing, such as letters, reports, reviews and essays.
Listening
(about 40 minutes)
4 parts
30 questions
This paper tests different real-life listening skills, such as listening
for information, opinion or detail, or listening for the general meaning of the whole text.
Speaking
(14 minutes per pair of candidates)
4 parts
You're tested on different aspects of speaking, such as pronunciation, how well you use grammar and vocabulary, how you organise your ideas and
how well you participate in discussions with other people
Your overall performance is calculated by averaging the scores you achieve in Reading, Writing, Listening, Speaking and Use of English.
Scoring and results:
Each candidate will receive a score for each of the four skills (reading, writing, listening, speaking and use of English). These five scores are averaged to give you an overall result for the exam.
All candidates receive a Statement of Results, and if you are successful in the exam you will also receive a certificate.
The following scores will be used to report results:
| Test Score | Grade | CEFR level |
| --- | --- | --- |
| 180–190 | Grade A | C1 |
| 173–179 | Grade B | B2 |
| 160–172 | Grade C | B2 |
| 140–159 | Level B1 | B1 |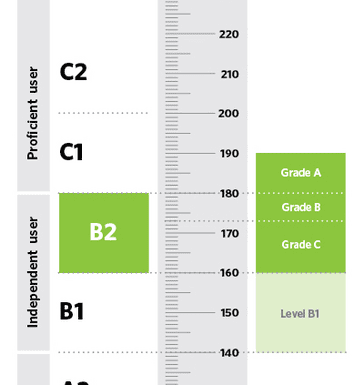 A candidate scoring 180 to 190 will receive a grade A and certificate at Level C1.
Candidates with scores from 173 to 179 will receive a grade B. Those scoring between 160 and 172 will receive a grade C.
These candidates will receive certificate at Level B2.
Candidates who score between 140 and 159 will receive a Cambridge English certificate stating they demonstrated ability at Level B1.
Candidates scoring under 140 will not receive a certificate, but score will be shown on the Statement of Results.