C2 Proficient (CPE) certificate shows the world that you have mastered English to an exceptional level and proves you can communicate with the fluency and sophistication of a highly competent English speaker.
Exam can be taken in both paper-based and computer based formats. It is at Level C2 of the Common European Framework of Reference for Languages (CEFR), and is accepted by universities and employers worldwide as an indication that you have achieved an extremely high level of skill in the English language.
C2 Proficient (CPE) shows that you can:
study demanding subjects at the highest level, including postgraduate and PhD programmes
negotiate and persuade effectively at senior management level in international business settings
understand the main ideas of complex pieces of writing
talk about complex or sensitive issues, and deal confidently with difficult questions.
FCE, CAE, CPE
More than Practice Tests
Get your writing checked, track your progress online.
Sample papers, online practice tests & tips.
Timetable:
Exam is made up of four papers developed to test your English skills. You can see exactly what is in each paper below.
Reading and Use of English
(1 hour 30 minutes)
7 parts
53 questions
Shows you can deal confidently with different types of text, such as fiction and non-fiction books, journals, newspapers and manuals.
Writing
(1 hour 30 minutes)
2 parts
Requires you to be able to write a variety of text types, such as essays, reports and reviews.
Listening
(about 40 minutes)
4 parts
30 questions
Requires you to be able to follow and understand a range of spoken materials, such as lectures, speeches and interviews.
Speaking
(16 minutes per pair of candidates)
3 parts
Tests your ability to communicate effectively in face-to-face situations.
Your overall performance is calculated by averaging the scores you achieve in Reading, Writing, Listening, Speaking and Use of English.
Scoring and results:
All candidates receive a Statement of Results, and if you are successful in the exam you will also receive a certificate. The following scores will be used to report results:
| Test Score | Grade | CEFR level |
| --- | --- | --- |
| 220–230 | Grade A | C2 |
| 213–219 | Grade B | C2 |
| 200–212 | Grade C | C2 |
| 180–199 | Level C1 | C1 |
The relationship between the CEFR levels, the Cambridge English Scale and the grades awarded in C2 Proficient (CPE) exam is illustrated below: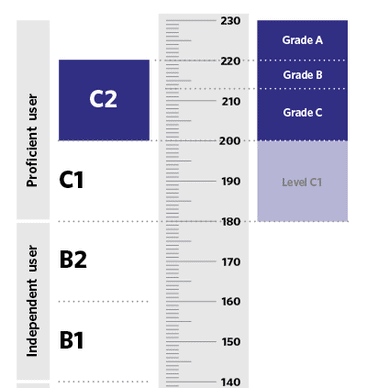 The maximum achievable score is 230.
A candidate scoring 220 to 230 will receive a grade A. Candidates with scores from 213 to 219 will receive a grade B. Those scoring between 200 and 212 will receive a grade C.
These candidates will receive certificate at Level C2.
Candidates who score between 180 and 199 will receive a Cambridge English certificate stating they demonstrated ability at Level C1.
Candidates scoring under 180 will not receive a certificate, but score will be shown on the Statement of Results.